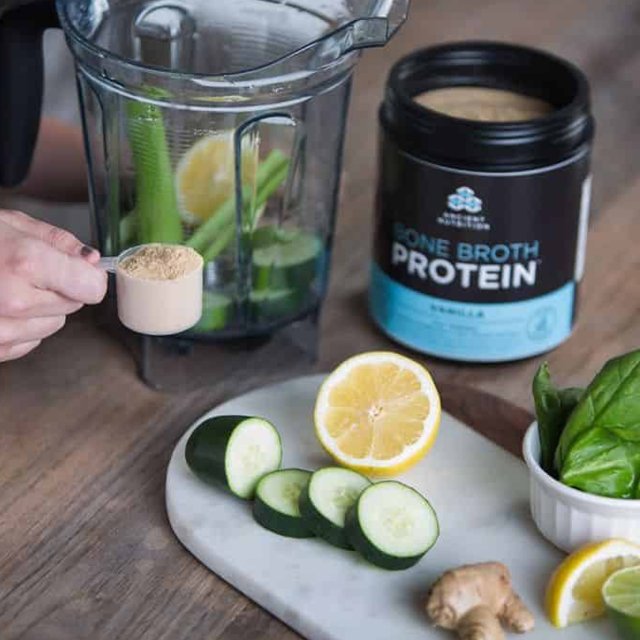 Are you looking for the ultimate super food that supports lean muscle, metabolism, gut health, joints, glowing skin, overall health, and much more?
Of course you are! Which is why Bone Broth Protein is the most important protein supplement you will ever use!
This is an amazing protein supplement (created from the ancient superfood) that helps anyone who loves the benefits of bone broth get the advantages of real bone broth without all the hassles and time constraints of making it yourself.
For as long as mankind has been cooking food over fire, bone broths — poultry, beef, fish & more — were staples in the traditional diets of virtually every culture.
This is for good reason…
They are loaded with essential nutrition, and the cooking process promotes easier digestion and taking in of key nutrients. Bone Broth provides powerful nutrients your body needs to thrive and key minerals that are often missing in a normal diet.
It goes without saying that a healthy balanced diet and active lifestyle are also important, but bone broth is a super food we should all be adding into our diet for a ton of benefits that are very difficult, if not impossible, to get anywhere else.
Why Bone Broth Protein Powder?
The bone broth protein powder supplement is a breakthrough in protein supplementation that delivers the benefits of homemade bone broth in a much more convenient way.
It's well known that bone broth is a superfood providing vital nutrients your body needs to thrive; including collagen, gelatin, glucosamine, chondroitin and several important minerals often missing in the human diet these days. This nutrition is essential for joint health, gut health, skin health, brain health, healthy aging, and a whole lot more.
This fits well into almost any diet or lifestyle. It's paleo friendly, dairy free, soy free, grain free, gluten free, no carbs, low calories, and loaded with highly absorbable protein.
Bone broth protein powder easily mixes into shakes, smoothies, juices and just about anything else. So you can quickly enjoy a healthy glass of nourishing, joint supporting, protein supplying bone broth in mere seconds!
How to Get the Most Out of Bone Broth
1) Remember that bone broth is NOT one of those foods that you can grab off the grocery store shelf and expect it to have anywhere near the same health benefits of real bone broth. The stuff you typically find at the store almost certainly contains a large amount of preservatives, and very little (if any) of the nutrients, you would expect from actual bone broth.
2) Making bone broth at home is great, but it takes a lot of careful preparation and several hours to do it. There are multiple steps involved in the process and missing any of them can ruin the entire batch. Most people simply don't have the time or desire to make their own bone broth, especially when you consider how often it will need to be made if you plan to add it to your daily diet (as you should).
3) If you do decide to make your own, be sure to add vegetables and herbs. Not doing so will decrease its potency. One huge mistake that most people often make when starting to make bone broth is not adding a variety of herbs and vegetables while cooking it. Including these will greatly help increase the awesome health boosting power of your bone broth and make it taste much better.
Does all this sound daunting?
Yes, it does!
This is not the easiest stuff to make.
So, what can you do to make it a LOT less difficult, but still get all the amazing benefits?
The answer is simple…
Use a real bone broth protein powder supplement!
As long as you are getting it from an authentic source (such as our recommended bone broth protein powder) then it will provide you all the proteins, vitamins, minerals, and other health benefits of the purest homemade bone broth!
This means you get all of the same powerful properties of this incredible superfood without any of the hassles of trying to make it yourself and keep it stocked up.
Instead, you can do it in 2 simple steps that literally take just seconds:
1. Get a scoop of Bone Broth Protein Powder
2. Mix it with water and drink it down
Yep, it's easy at that.
– No trips to the butcher.
– No spending hours in the kitchen.
– No shelves full of storage containers.
– No messes.
– No fuss.
All the benefits in minutes!