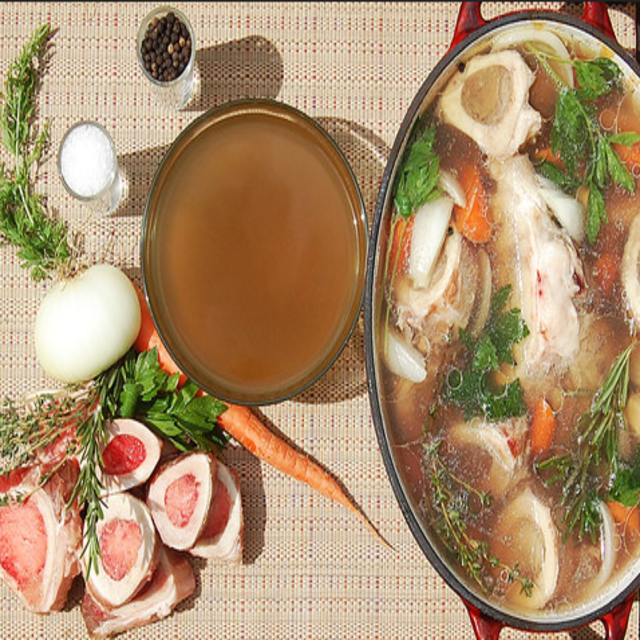 If you are confused about bone broth vs stock then you are certainly not alone. There are a lot of questions (and even some debates) out there about the differences & similarities between the two. Sometimes the terms are even used interchangeably, and many argue they are one and the same. So, let me see if I can shed a little light on the subject without confusing you any more than you probably already are.
Bone Broth vs Stock: What are the differences, if any?
The fact is that they are very closely related, and depending on who you talk to or the recipe being used, they may even be the same thing; whether the person realizes it or not.
Ok, yeah, I know that didn't help at all, but bear with me.
By pure definition, you can say bone broth is a stock because it is made by boiling bones, ligaments and connective tissue for extended periods of time, and has a thicker texture. That is essentially the definitely of stock. However, bone broth is slightly different from a normal stock because it is cooked much longer (up to 48 hours) to allow the full array of nutrients to be released from the bones.
But, in my opinion, these are the subtle differences:
Typically Stock is composed of animal bones — sometimes roasted and sometimes with some meat still attached (it's a matter of preference) — simmered in water with vegetables & aromatics. It's usually cooked for roughly 5 hours, then strained. The main goal of stock is to extract the collagen from the connective tissues & bones, which gives it the thick, gelatin quality you have probably seen before. Stock is almost never served on its own. Instead, it would normally be used to deglaze a pan, or as a base for rich sauces or gravies.
The base of Bone Broth is "stock-like" in that it is usually made from roasted bones — and can often still have some meat attached — with vegetables of choice. However, it's cooked for a much longer period of time, usually 24 up to 48 hours, and the aim is to not only extract the gelatin from the bones, but also release all the super nutritious minerals — Thus making it a superfood! It is then strained and seasoned. It can be enjoyed on its own, made into soups, or used in sauces.
So, bone broth is differentiated by its thickness and exceptionally long cooking time, which gives it more nutritional value. A bone broth really cannot be overcooked (within reason) because the point is to break down all of the cartilage until there's a lot of collagen-rich gelatin in the broth. What that essentially turns into is a protein that is great for you in so many ways!
That's pretty much it in a nutshell. The similarities between bone broth and stock are plentiful, while the differences are minor or even nonexistent in some circumstances. So, whether you are using bone broth or stock, it doesn't really matter a whole lot in the grand scheme of things. The most important part is that you are eating healthy and incorporating this amazing superfood into your diet whenever possible.
I hope this clears up some of the confusion for you. I know, it's still a confusing subject no matter how you try to digest it, but it's not worth spending your energy worrying about it. Instead, I recommend getting or making some bone broth right now, so you can enjoy all the incredible health benefits as soon as possible!
If you have any questions feel free to contact us any time.