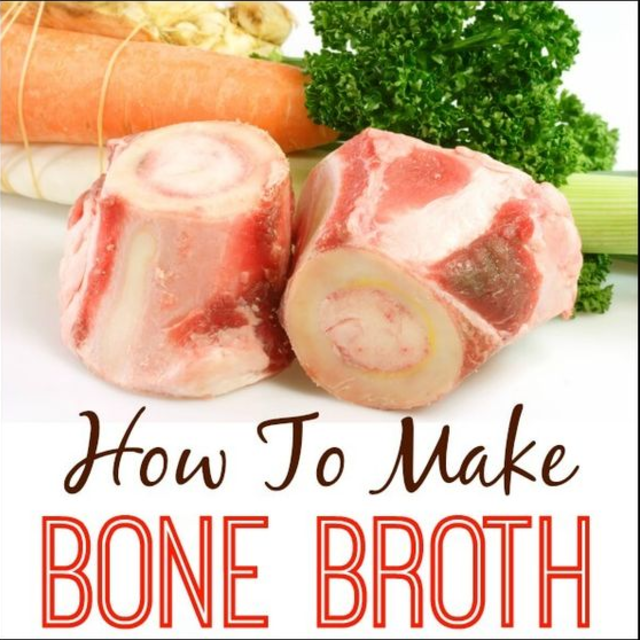 Here are a handful of our favorite bone broth recipes and easy ways to make bone broth of various types:
The #1 beef bone broth recipe that we recommend following exactly if you are just starting out and haven't had time to experiment, is this…
Ingredients you will need:
4 lbs beef bones
12 cups water
2 T apple cider vinegar
1 medium onion, diced
1.5 cups chopped carrots
1.5 cups chopped leeks
3 bay leaves
3-5 sprigs of fresh rosemary
6 cloves of garlic
1 tsp black peppercorns
Cooking Instructions:
Preheat your oven to 450 degrees fahrenheit and line a baking sheet with foil. Place the bones on the baking sheet and roast for 30-40 minutes. Flip them halfway through.
After the bones are cooked, place them in a large stockpot and cover them with water. Add the vinegar and allow them to sit at room temp for roughly half an hour.
Chop the vegetables and add them to the pot. Bring it to a full boil and then lower to a simmer.
For the first few hours, skim the foamy layer that develops on the top and discard.
Simmer for 48 hours.
Allow to cool slightly, then strain. Transfer the broth to an air-tight container and refrigerate for at least 5 hours (or overnight). This will allow the fat to rise to the top and solidify.
Scrape the fat off the top. This will leave you with a pure gelatinous bone broth when cold.
Store the broth in an air-tight mason jar or freeze it until you are ready to use it. When ready to use, slowly warm the broth over a low heat to bring it back to a liquid consistency.
Give it a try. You'll be glad you did!
You could also just skip everything above by buying it already made or by getting some bone broth protein, and save yourself all that time and effort!